Portfolio
Kids With Cancer | BeaJoyner.com | Ink Raven.com | Plano Animal Shelter Friends | Jaga Draken | Li Thia Gelvdael | DR Texas
---
Kids With Cancer
Informational site for parents who have children diagnosed with Leukemia or other types of childhood cancer. Links and resources to all sorts of information on children's cancer for parents, as well as a page for kids that includes links to games, puzzles, and helpful web sites specifically for children with cancer. Table-less Layout done in XHTML and CSS.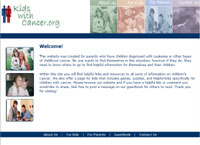 Back to Top
BeaJoyner.com
Bea Joyner is an author & photographer from Philadelphia, PA. I was asked to design a page that would accurately reflect her image and her book.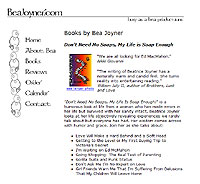 Back to Top
InkRaven.com
An e-commerce site designed for a toner vendor in the Dallas/Ft. Worth area. The owner wanted a site that would allow his customers to purchase products online with minimal hassle.
No longer online.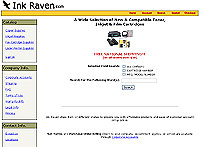 Back to Top
Plano Animal Shelter
Worked closely with another volunteer to create the web page for an annual city wide coloring contest. I scanned the coloring page into JPEG format and Adobe PDF format for easy viewing and downloading from the web site. Transcribed copy from previous flyer for web page. Re-worded and edited grammar and spelling mistakes prior to the page going live. Both the event and the web site were highlighted in the Plano Star Courier Newspaper.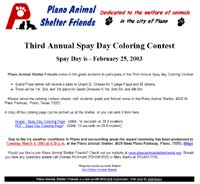 Back to Top
Jaga Draken
This site was designed for the members of the Jaga Draken clan in Mythic Entertainment's Multiplayer game Dark Age of Camelot. The group asked for a site that reflected the groups personality as well as what they stood for.
No Longer Online.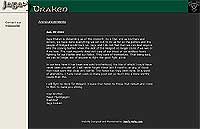 Back to Top
Li Thia Gelvdael
This site was designed as a news and information site for the players of Simutronics online role-playing game, Dragonrealms. Incorporated Javascript, CSS, and HTML.
No Longer Online.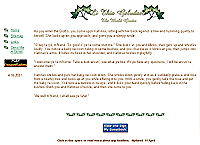 Back to Top
DR Texas
I designed this web site for the Texas DragonRealms players e-mail group. Information on various activities and news about the game was hosted here.
No Longer Online.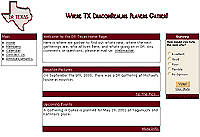 Back to Top